Career Development Program (CDP)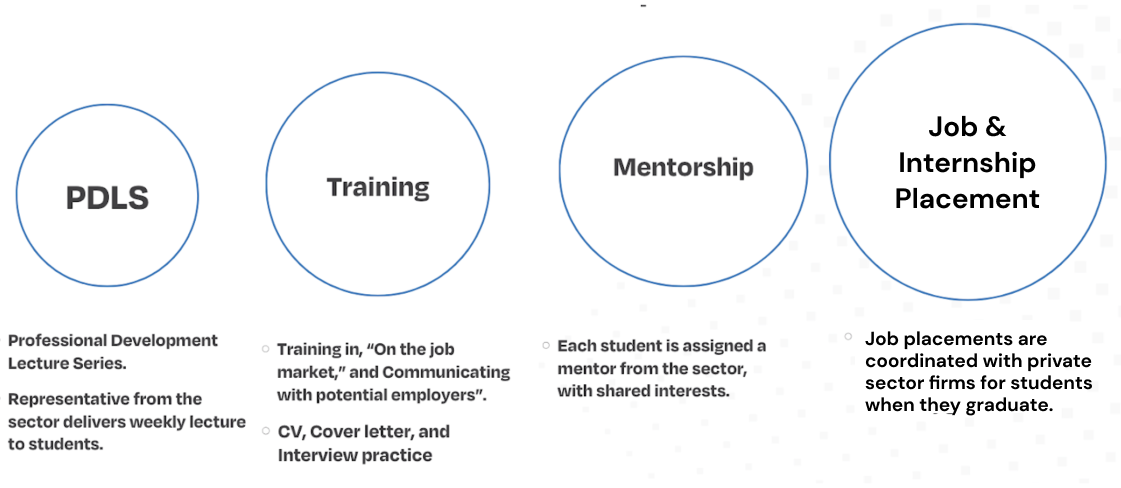 The Career Development Program (CDP) at BBS prepares students to succeed in their jobs after they finish the program. It has four components of practical training and hands-on experience which award students with a variety of professional skills, abilities, and knowledge.
1- Professional Development Lecture Series (PDLS)
2- Training - On the Job Market; On the Job; and Critical Thinking (CT)
3- Mentorship
4- Internship
Through the PDLS and Mentorship, students receive guidance and advice; develop a network in the private sector; and practice networking, communication, and other professional skills that they learn both in their core courses in English language and Business but also in the CDP curriculum. The CDP curriculum teaches students to operate successfully "on the job market" when they are applying for work, and also "on the job" after they obtain employment with sessions on Communication, Leadership, Teamwork, and Problem-Solving. Critical Thinking activities are also conducted, through critical reading, research, writing, presentation, and class discussion and debate activities that focus on topics in business and the private sector. In the 2nd and 3rd semesters, BBS staff will start to talk to students about internships which they may start while in the program or after, depending on their other commitments and interests.