Business Foundations is a one-year, three-tiered curriculum in English, Business and Professional skills. It was designed by local and international experts in the business and education sector, and is based on extensive research among private sector leaders in Iraq about the "skill gap" the skills Iraqi youth lack, but need, in order to work with companies. It provides both an academic background and practical skills needed for Iraqi university graduates to find entry-level employment or to start their own businesses. BBS's curriculum meets high-quality, international academic standards and is tailored to the needs of Iraqi youth and market demands. It is a blended, hybrid model that uses both in-person and online components to maximize learning.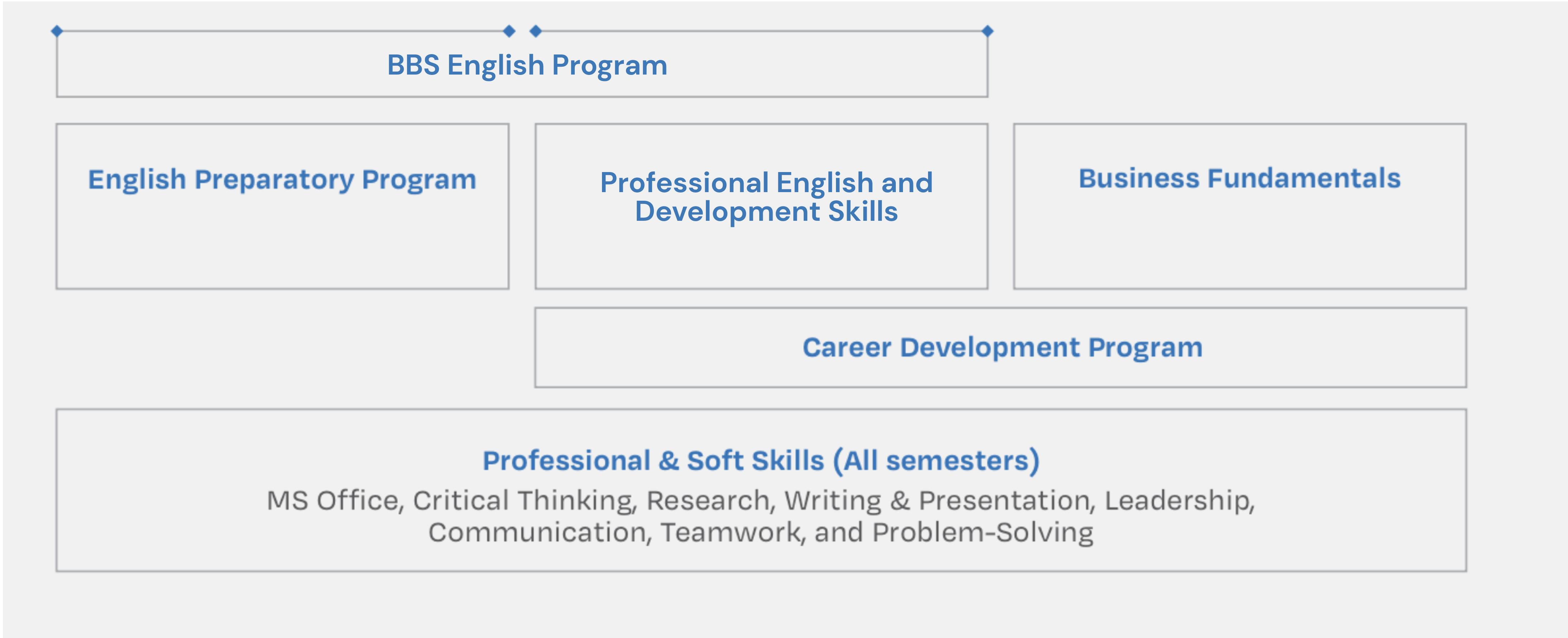 English Preparatory Program
The Preparatory Program is a preparatory program for Beginners in English (A2) who need to develop their language skills before entering the first semester in Professional English and Development Skills. It is an intensive curriculum and requires students to be in class 3 to 4 hours a day, 5 days a week for three months (August - October), totaling 180 hours.
Professional English and Development Skills (PEDS)
PEDS is a four-month curriculum in Professional English and Development Skills that prepares students to succeed in their future careers. Over four months, students will take 128 hours of English, and 32 hours of Professional Development Skills, such as Communication, Leadership, Teamwork, and Organization. Throughout the sessions, focus is on development of critical thinking skills through discussion-based classes, and critical reading, research, writing and presentations. Students also take a 40 hour Microsoft Office which introduces them to Word, Excel, and Powerpoint.
Business Fundamentals
Business Fundamentals gives students a business acumen and prepares them to work in a variety of fields in the private sector including the digital economy and entrepreneurship. Students take seven core modules in: Business, Economics, Marketing, Accounting & Finance, Entrepreneurship, Business Analytics and Design Thinking. Workshops and lectures are also given in key topics such as Digital Marketing, Pitching, Innovation, Product Development, Market Research, and Petroleum Economics. Similar to the PEDS semester, professional and soft skills such as Communication, Leadership, Teamwork, and Organization, critical thinking, research, writing and presentations are taught throughout the business modules.